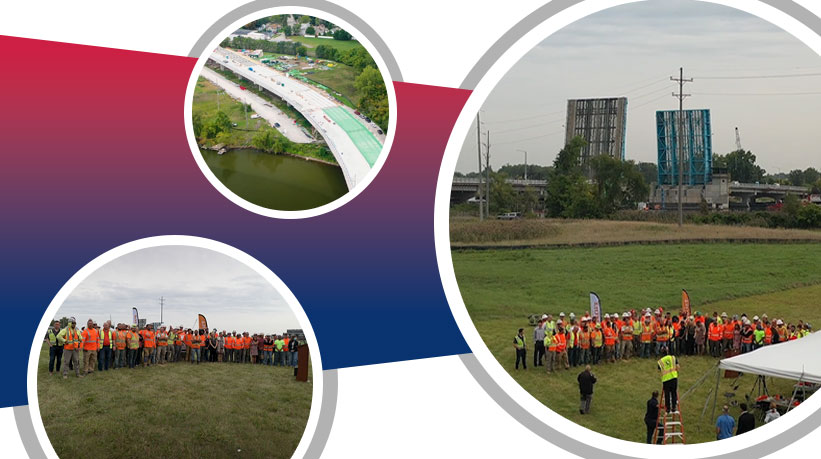 October 04, 2022

UBP Bay City LiUNA 1098 Safety Day
Originally Published on September 23, 2022
---
BAY CITY BRIDGE PARTNERS THANKS CREW AT RECENT SAFETY DAY AT THE LIBERTY BRIDGE SITE  
BAY CITY, MI – Bay City Bridge Partners (BCBP) thanked the crew working on rehabilitating Liberty Bridge at a recent Safety Day organized by LiUNA Local 1098.  The event was attended by officials from BCBP, general contractor Granite Kraemer JV, the City of Bay City, and local economic development champions.  
"It's a celebration of long hours and hard work. It's our way of giving back to the crew," said BCBP General Manager of Operations Lynn Pavlawk.  
BCBP, a subsidiary of United Bridge Partners, has leased the Liberty Bridge from the City of Bay CIty and is currently working on its rehabilitation. Pavlawk said BCBP is invested in the workers, and Safety Day is a way of showing appreciation to them. The event was marked by LiUNA Local 1098 giveaways, a hearty meal and a raffle for prizes. Workers were encouraged to enroll for training courses such as safety and hazard training, apprentice training, and more at LiUNIA Local training centers.  
In addition to celebrating laborers, the event also recognized the hard work of electricians, carpenters, millwrights, and other skilled trades working on the job site.  
LiUNA Local 1098 steward John Gottschling said that the working conditions were tough over the winter months, thanks to a cold Michigan winter that produced ice on the beams and high winds.  
Construction Project Manager of Granite Kraemer JV Kevin Kruger echoed that sentiment, saying if not for the perseverance of workers on the project, Liberty Bridge would not be achieving the milestones it is today. "We have done all that (the work) safely and I think we made some friends," he said.  
Demolition on the Liberty Bridge began in December 2021 and has since generated long-term work for local workers. Kruger said that 85% of the crew working at the Liberty Bridge is comprised of Michiganders.  
Maurice Ritter, LiUNA Local 1098 Member and Demolition Expert, said he loves to work in his town, especially when the work is long-term. "They do care for our safety and that's what I like about these guys. They do go the extra mile," Ritter said about Granite Kraemer JV.  
Liberty Bridge rehabilitation is creating a more reliable, "like new" bridge with new deck surface, sidewalks and lighting, new electrical, new or refurbished mechanical parts inside and under the bridge, and new technology. Construction work is expected to be substantially complete by the end of this year.