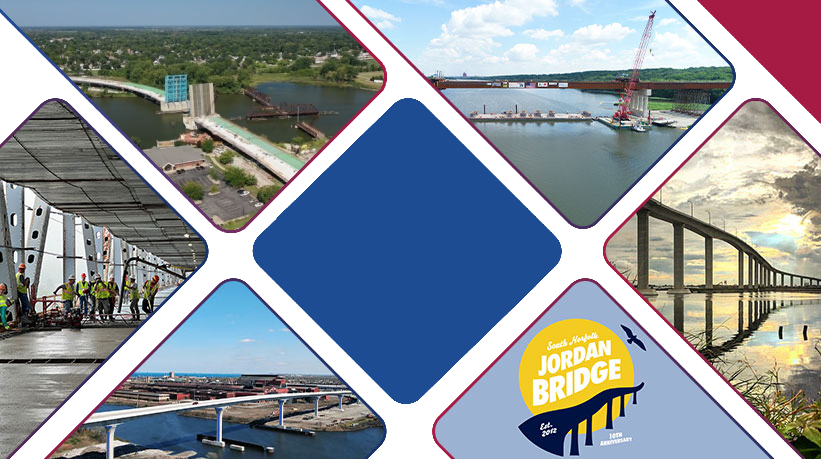 October 19, 2022

UNITED BRIDGE PARTNERS SHARES FALL UPDATE
Cline Avenue Bridge reinforces its position as the solution to area congestion. With an abundance of construction on surrounding routes and roadwork underway on I-90 between mile markers 3.4 to 4.6 from October 3 through December 6, drivers can rely on Cline Avenue Bridge as their timesaving route between Northwest Indiana and Chicago.
The Cline Avenue Bridge is saving professional drivers time, miles, and money – contact [email protected] to get your free time and mileage analysis to learn how much this route can save you.
Professional drivers can also save money while saving time with the Cline Avenue Bridge volume-based rebate program, which rewards drivers who travel Cline Avenue Bridge frequently. Contact Robin Meszaros at Bestpass to see if your business qualifies at [email protected].
Learn more at https://www.clineave.com/.
South Norfolk Jordan Bridge's 10th Anniversary Celebration continues! The team will commemorate a decade of serving the trucking community with a truck driver appreciation lunch at Elizabeth River Park on November 2 – RSVP with Jarrod Rabatin at [email protected].
The South Norfolk Jordan Bridge is a reliable shortcut and delay-free alternative to the Downtown Tunnel. To learn how SNJB can save your business time, miles, and money, contact Jarrod Rabatin at the email above for a free time and mileage analysis.
For more information, visit https://snjb.net/.
When it opens in early 2023, this new entrance to Joliet's CenterPoint Intermodal Center will provide the fastest route for trucks and employees to access I-80, which will save time, miles, and costs.
Construction is on track and toll pricing is now available. Professional drivers are encouraged to claim their free time and mileage analysis to learn how the Houbolt Road Extension can save their business time, miles, and money. Contact Tijana Raketic to book your free analysis at [email protected].
Learn more about this project at https://houboltroadextension.com/.
Significant progress has been made on the bridge deck rehabilitation of Liberty Bridge. The grey lanes in the photo show the new poured concrete deck, with the green sections on the east side having been poured shortly after the photo was taken. Many of the parts and components of the bascule, if not replaced, have been sent to specialty suppliers for remachining or refurbishing. As the Bay City Bridge Partner crew awaits return delivery of these parts, the crew is re-prioritizing work in other areas, including the northbound travel lanes, to keep the overall bridge reopening on track for the end of the year.
Meanwhile, the Bay City Bridge Partners Customer Service Center is underway with plans to open later in the Fall and to begin signing up customers for transponder accounts.
A short distance upriver from Liberty Bridge on the Saginaw River stands the Independence Bridge, which is currently going through the permitting and design development phase. Work is scheduled to begin early 2023 with a targeted 2024 completion. For the latest project news and more information, visit https://baycitybridgepartners.com/.
Memorial Bridge is Parkersburg's hometown bridge…even better. When it reopens in 2023, it will provide a convenient route across the Ohio River and re-welcome commercial and truck traffic that was restricted from using the bridge prior to the improvements. Commercial drivers can learn how Memorial Bridge can save their business time, miles, and money; contact Jon Wallace to book your free analysis at [email protected].
A milestone was recently achieved when a notable portion of cast-in-place concrete decking was poured in the westbound lane of the Parkersburg Memorial Bridge. Over the course of three nights, the crew laid down approximately 500 yards of concrete.
A-to-Be has been selected as the tolling provider, and they will partner with Modjeski and Masters and Kokosing for the installation of gantry and tolling equipment.
Get project updates and more information at https://parkersburgbridgepartners.com/.
Have a question on one of our projects? Send us a note at [email protected] to learn more.