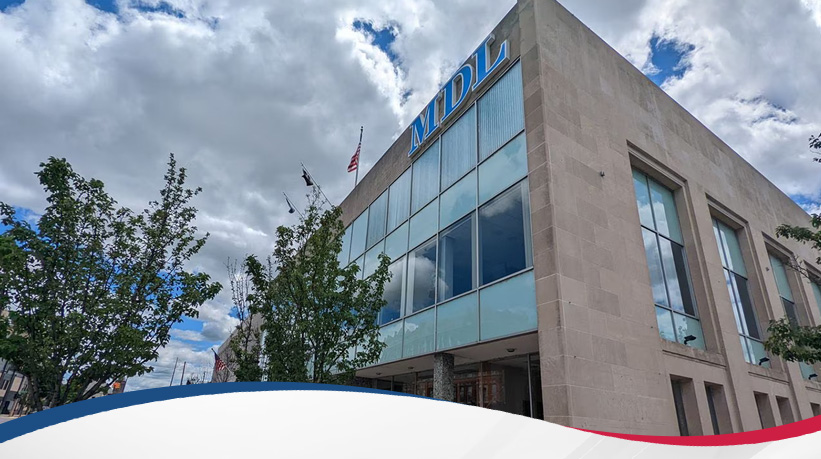 March 23, 2023

'We feel like we're home': Bay City Bridge Partners opens customer service center downtown
Originally Published on Feb. 28, 2023
Source: www.mlive.com
---
BAY CITY, MI – The private company that is rehabilitating and turning two of Bay City's bridges into toll bridges is celebrating another milestone today.
Bay City Bridge Partners, a subsidiary of United Bridge Partners, opened the doors of its customer service center at the MDL Building at 300 Center Avenue, Suite 101. To celebrate, a special ribbon-cutting ceremony was held on Feb. 28 to give visitors, officials and media members a chance to look at the new space.
"It's fabulous," said Lynn Pavlawk, Bay City Bridge Partners general manager. "We are so excited to be part of the MDL tenant team, to partner with them on this location and to have the office open finally."
Bay City Bridge Partners signed a lease on the office space in July, 2022. Since then, the space was renovated and teller-style window booths and some fresh paint were added.
"We feel like we're home, Pavlawk said. "We talked about being an integral part in to the community and now that we have this office space here and we're open to the public, we finally feel settled in and feel like we're home."
Now, with a central physical space to work with, the crew at Bay City Bridge Partners has been able to meet together to work in a single space on the upcoming Independence BRidge rehabilitation project.
"Now that we have all the team together we can do some design meetings as we're finishing some of the activities for Independence Bridge," Pavlawk said. "We can all do that in one space."
This physical office will be where drivers can stop in and get their transponders, or also called a 'BC-Pass', in person if they prefer to do so. Drivers can also register for transponders online at https://baycitybridgepartners.com/get-ready/.
"You can stop by and get your BC-Pass," Pavlawk said. "If you have questions about tolling or transponders, feel free to stop in and get those addressed and answered as well."
Transponders are small stickers that are placed on windshields. They transmit a radio signal to equipment on the bridge. The equipment reads the transponder's number that is assigned to accounts and charges it.
Tolling for nonresidents is planned to start on the Liberty Bridge in the beginning of April, according to Bay City Bridge Partners. Bay City residents with transponders will be free from tolls until 2028.
Once tolling starts for residents, this will be where individuals can also come in and apply for a program that waives fees for low-income Bay City residents.
Click here for more information on tolling.