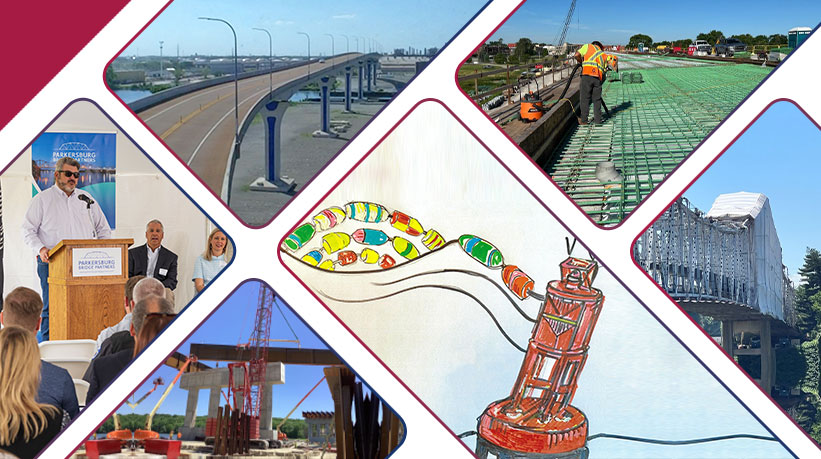 June 24, 2022

United Bridge Partners Shares Summer Update
Construction on this project is in full swing; when complete, this 1.5-mile highway extension will connect I-80 to the CenterPoint Intermodal Center (CIC), the largest inland port in the country. Now that all concrete piers are erected, precast concrete beams and steel plate girders are going up to lay the foundation for the bridge's concrete deck, with concrete roadway installation also ongoing.
This new entrance to the park will provide a direct route for trucks to access I-80, significantly reduce the CIC's carbon footprint, and significantly relieve congestion on the existing roadway network. The Houbolt Road Extension is planned to open in the first quarter of 2023.
Learn more at https://houboltroadextension.com/
Now open for a year and a half, the Cline Avenue Bridge just set a new traffic record in May. With seasonal roadway construction picking up on surrounding routes, the new record is testament to more drivers relying on the Cline Avenue Bridge as a dependable shortcut to bypass area congestion.
Cline Avenue Bridge continues to offer a volume-based rebate program to truck and commercial drivers; program details are available by emailing [email protected].
Learn more at https://www.clineave.com/.
South Norfolk Jordan Bridge (SNJB) welcomed Jarrod Rabatin to the team in April. As account manager, Jarrod will create and strengthen relationships with customers with a focus on supporting commercial drivers and trucking companies with resources that help them optimize routes and reduce costs.
Celebrating a decade of service this this year, SNJB is working behind the scenes on an outdoor art installation that will commemorate this milestone and uplift the community for a long time to come. Its unveiling is planned for this fall.
Learn more at https://snjb.net/.
Rehabilitation and modernization work on Liberty Bridge continues; preparation to lay the new deck surface on the southern lanes is underway with southern lanes scheduled to reopen to traffic at the end of August. Liberty Bridge is planned to fully open to traffic in the first quarter of 2023.
A short distance upriver from Liberty Bridge on the Saginaw River stands the Independence Bridge, which is currently going through the permitting and design development phase.  Work is scheduled to begin early 2023 with a targeted 2024 completion. For the latest project news and more information,
visit https://baycitybridgepartners.com/.
Parkersburg Bridge Partners held a project kickoff ceremony to celebrate the start of Memorial Bridge rehabilitation in a May 18 ceremony attended by United Bridge Partners representatives, Parkersburg Mayor Joyce, Belpre Mayor Lorentz, many guests of honor, and local media. With project work fully underway, public safety messaging is taking center stage to reinforce rules of the road now that only one lane is open to both directions of travel.
Concrete pier substructure repairs, removal of the existing concrete deck, steel superstructure repairs and removal of the existing lead-based paint is all ongoing. Anticipated project completion is late 2023
Learn more at https://parkersburgbridgepartners.com/.
To discover how United Bridge Partners project and programs are saving professional drivers time, miles, and money, send us a note at [email protected].